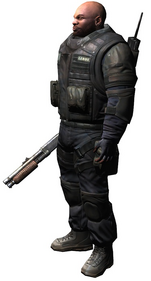 Agent Pierce LeRue is a fictional character SCU appearing in Condemned 2: Bloodshot. He aids Ethan throughout the game, and is the only agent that Rosa and Ethan trust. He is voiced by Phil LaMarr.
Condemned 2: Bloodshot
Edit
He first appears in the Preston Hotel mission where he and Agent Dorland help Ethan search for Malcolm Vanhorn. Initially, LeRue is very loyal to Dorland, though he later reveals that he secretly hates him after he saves Ethan from Black Lake Lodge. In the Trenton District mission, he helps Ethan sneak on board an SCU bus so he can interrogate SKX, though is later knocked out by the serial killer. He only reappears at the very end of the game, flying the chopper that saves Ethan from The Peninsula. He offers Ethan a drink, which Ethan refuses before falling asleep.