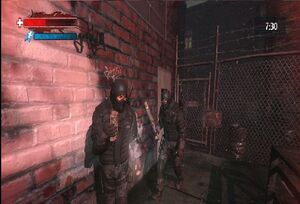 Hangover
is a
Condemned 2: Bloodshot
multiplayer map. Deathmatch, Bum Rush, and Team Deathmatch games can be played here. Hangover is based on the very first area explored in singleplayer and is set just outside of the
Rock Bottom Bar
.
It is a small map with few weapons and a few dead ends. There are large dumpsters in the area and stairs leading to a platform. There are secluded areas which can only be accessed by spawning as
The Influenced
during Bum Rush.
The Bloodshot Fight Club's Practice Arena is set in Hangover. However, certain areas, such as the stairs, are not accessible as these are where the enemies spawn.
A hangover is the name of several physiological conditions, including headache, nausea, and dehydration, which commonly occur after a period of excessive alcohol consumption. The map's name comes from the fact that it is set outside of a bar.